This website uses cookies to improve user navigation and update its content. Below, you will find information about what cookies are, what types of cookies exist, which ones we use in www.hotelrutllan.com, you can configure and disable cookies in your browser and how to specifically disable the installation of third-party cookies.
WHAT ARE COOKIES AND WHY DO WE USE THEM ON THE WEBSITE?
A cookie is a file that is downloaded to the user's device when accessing certain websites to store and retrieve information about browsing from your computer.
Cookies allow this website, among other things, to store and retrieve information about user choices and habits. On this site, the cookies that exist are necessary for its operation.
WHAT TYPES OF COOKIES EXIST?
Cookies, depending on how long they remain activated, can be divided into session or permanent cookies:
Session Cookies: These cookies are designed to collect data and store it while the user navigates the website, and are deleted when the browser is closed. They are usually used to store information that is of interest to keep for the provision of the service requested by the user on a single occasion.
Persistent Cookies: This category includes all cookies that remain on the user's hard drive until they are deleted or until your browser does, depending on the expiration date of the cookie. All persistent cookies have a hard-coded expiration date, but the duration can vary (some may even stay longer on the user's device if positive steps are not taken to remove them). As long as a cookie does not expire, the data collected can be accessed and processed by the controller or by third parties.
Additionally, depending on the entity that manages them, cookies can be classified as own or third-party:
Own cookies: are those that are sent to the user's terminal device from another device or domain managed by the editor/responsible and from which a service requested by the user is provided. That is, as the name suggests, own cookies are placed on the user's device directly by the website they visit.
Third-party cookies: are those that are sent to the user's from a device or domain that is not managed by the editor/responsible, but by a third party that processes the data obtained through cookies. For example, advertisers, analytics systems, etc.
As for their purpose, cookies can be:
Technical or necessary cookies: these cookies are essential for users to browse the website and use its functions, such as identifying the session, accessing restricted areas, fraud prevention linked to the security of the service, counter visits for the purposes of software licenses, enabling dynamic content, etc. Technical cookies are also those cookies that allow the management, in the most effective way possible, of the advertising spaces that, as one more element of the layout, are located on the website, app, or platform (provided that information is not collected from users for a different purpose, such as personalizing advertising content).
Preference or functionality cookies: these cookies allow a website to remember the choices made by the user in the past, such as what language they prefer, which region they like weather reports from or what their username and password is in order to log in automatically.
Analytical or statistical cookies: these cookies collect information about how the user uses a website, such as which sections they have visited and on which links they have clicked, with the sole purpose of improving the functions of the website. It is not data that can identify a user since they are aggregated and therefore anonymous.
Advertising cookies: These cookies track the user's online activity to help advertisers deliver the most relevant advertising or to limit the number of times an ad is seen. These cookies may share this information with other organizations or advertisers. These are persistent cookies and almost always come from third parties.
COOKIES USED ON THIS WEBSITE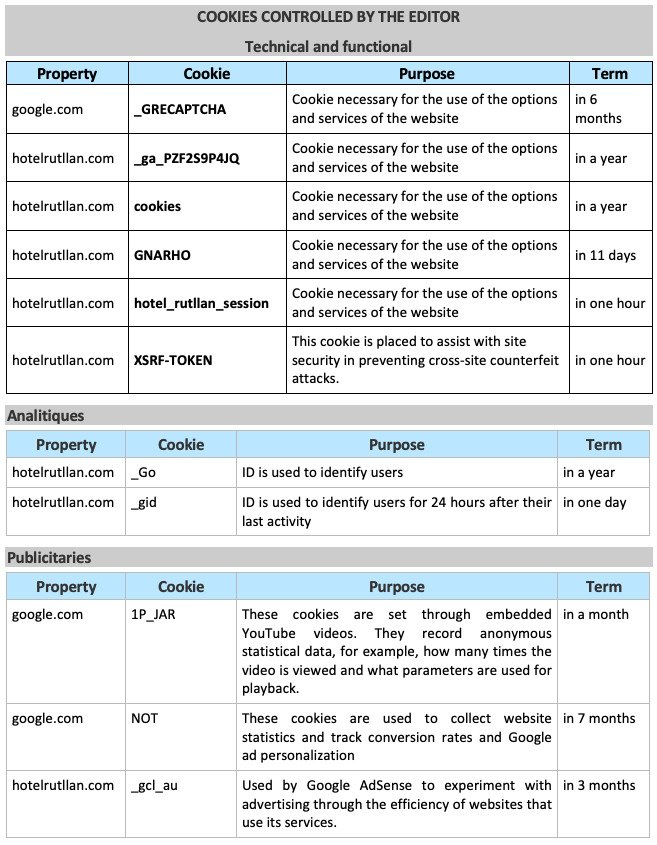 THIRD PARTY COOKIES (privacy policy)
REVIEW
This list will be updated as quickly as possible as the website services offered on it change or evolve.
HOW TO MANAGE COOKIES FROM THE PREFERENCE CENTER OR YOUR BROWSER?
You can configure cookies from the consent management platform by clicking on this link Cookie settings.
The user can allow, block or delete the cookies installed on his computer by configuring the options of the browser installed on his computer. Please read the help section of your browser carefully for more information on how to enable "private mode" or unblock certain cookies:
HOW TO DELETE COOKIES FROM THE MOST COMMON BROWSERS
Users may revoke their consent to the use of cookies in their browser by following the instructions above or through an opt-out system in their web browser.
Notwithstanding the foregoing, you should bear in mind that disabling cookies could affect the proper functioning of certain sections and contents of the website. If you decide not to accept or block certain cookies, this may affect, totally or partially, the normal functioning of the website or prevent access to some of its services.
INFORMATION ON DATA PROTECTION
Personal data
The legal basis for the processing is the consent given for the use of cookies. As indicated, you can revoke this consent as indicated in the section "HOW TO MANAGE COOKIES FROM THE PREFERENCE CENTER OR FROM YOUR BROWSER?".
For more information on data processing, you can consult our Privacy and Data Protection Policy.
Transfers to third countries
In relation to the international transfers of personal data outside the Andorran Area, it will be governed as established by those institutions that operate outside the European Economic Area, such as Google in the United States of America, and can identify in the following links the mechanisms established to ensure an adequate level of protection to the European General Regulation for the Protection of Personal Data.
1. Information on international data transfers by Google (data transfer frameworks).
UPDATES AND CHANGES TO THE COOKIE POLICY
We can modify this cookie policy to adapt it to the cookies we use, as well as according to new legislative or regulatory requirements, or in order to adapt said policy to the instructions issued by the Andorran Agency for Data Protection (APDA).
When significant changes occur in this Cookies Policy, the user will be notified by means of an informative notice on the website. For more information about what use we make of cookies, you can send us an email to dpd@hotelrutllan.com.
ADDITIONAL NOTES
Neither this website nor its legal representatives are responsible for the content or the veracity of the privacy policies that third parties mentioned in this cookie policy may have.
Web browsers are the tools in charge of storing cookies and from this place you must exercise your right to delete or deactivate them. Neither this website nor its legal representatives can guarantee the correct or incorrect handling of cookies by these browsers.
In some cases it is necessary to install cookies so that the browser does not forget its decision not to accept them.
For any questions or queries about this cookie policy do not hesitate to contact us dpd@hotelrutllan.com.